The Characteristics of Colors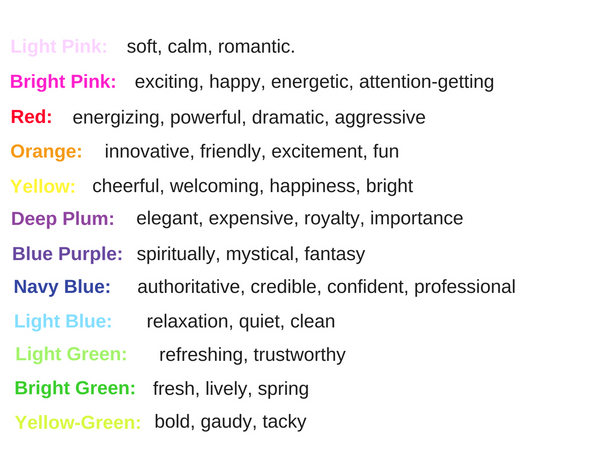 What's the first thing that comes to mind when you think of Wes Anderson films? It may be Bill Murray or the eccentric nature of all his characters. However, for a lot of viewers, it's the obvious use of color palettes in each of his films. Anderson recognizes that every color has meaning and evokes emotions. The colors make his audience relate to characters in different ways and feel certain emotions during specific scenes. In this blog, we will be helping professionals in the event industry use that same strategy by talking about the characteristics of different colors and how they can use them to be clear about their event message!
Pink: Pink is a diverse color and the mood you want to express depends on the shade you choose. Lighter pink at your event can convey a soft and calm atmosphere maybe for an intimate cocktail hour, whereas bright pink is more exciting, attention-getting and fun and would be great for an after party or dance.
Red: Red is a very dramatic and stimulating color and usually adds a punch to any event design. Red can bring about positive emotions such as excitement, but can also be associated with aggression, so use it carefully. If you're going for high energy, red lighting and accents will complement your event perfectly.
Orange: Hosting a networking event, conference or fundraiser? Orange could be the perfect color to bring out innovation and excitement. Get attendees' creative juices flowing while they meet with other professionals, participate in a session or get them amped up about your organization's mission using an orange color scheme.
Yellow: For a spring or summer event, yellow is a good way to go. Yellow is meant to be welcoming and bring joy and warmth to those who see it. However, too much yellow can be hard on the eyes and may cause more stress than intended. Use yellow as a companion to other colors in dark spaces to brighten the environment at a gala or wedding.
Purple: Like pink, purple is a diverse color that can offer anything from sophistication to fantasy, depending on your event. If you want your event to be more exclusive or you have a VIP area, consider using deep plum to communicate a more elegant feel, or use blue-purple to give your attendees a mystical experience. Purple is classic and you can't go wrong with purple accents such as flowers and tablecloths or purple lighting to wash the stage or dance floor.
Blue: Blue can be a very peaceful color and if you're hosting an event with a relaxation space or a session that includes yoga, a light or sky blue will help attendees get in the right mindset. Darker blues, such a navy, convey professionalism and credibility and if you pair navy with another color for your corporate event, attendees will feel a sense of trust in your company right when they see it.
Green: Green offers a sense of freshness that would be perfect for a product launch party, a grand opening or the first year of what you hope will be an annual event! The right shade of green, such as light green or bright green, will liven up your event design and your attendees' moods, but be careful with yellow-greens because they can come off as gaudy or tacky.
If you're looking for ways to incorporate specific colors in your event design, call TSV today! We have tons of ideas on how to make your event look and feel exactly how you want!