With this number so high, trade show engagement is extremely important. If attendees don't feel engaged while visiting your booth, your company will not see results. In this blog, we are going to discuss some ways to attract attendees, generate more scans and reach a larger audience during floor demos!
LED Displays
LED walls are a super dynamic and effective way to display content at your booth. They are bold and bright and you can use them to show video content, display products, brand your booth and more. LED walls are also flexible and can be built into any design or space. For example, at last year's ComplexCon, AAPE designed a circular booth and requested an LED wall to showcase their product. Treehouse Fabrication & Scenic made a curved wooden structure that our team built the LED wall into. The booth design was unique, while also keeping a nice flow and remaining functional.
Displaying your social media on an LED wall, either the entire time or in between video content, can also increase engagement by getting attendees to post and use your specific hashtags. With attendees being a part of an online conversation, it will generate a positive buzz, promote brand awareness and heighten public interest in your brand by displaying user-generated content that is constantly-updated.
KIWI used an LED wall in an interesting way at their booth by mapping out squares of content into corresponding reveals in a wooden facade to activate their display! We selected our 2.6mm LED panels for perfect up-close viewing, and the ever-changing content meant that there was never a dull moment!
Lighting
Lighting is a great way to enhance and highlight your booth, but you want to keep it simple so you don't overwhelm passers-by. Some ways to incorporate lighting into your booth design include back-lighting or uplighting to enhance key displays, uplit fabric and moving lights to make your booth more lively. Another great way to use lights is with overhead displays. An overhead lighting display will attract attention from across the convention, but won't detract from your content once the attendee is in your booth. And1 added moving lights to their overhead marquee to draw attendees to their activation! It added to their booth, but still kept the entire design cohesive by not being overwhelming.
Video Effects
Content can be displayed in multiple ways. We have already discussed LED walls but some other ways video and still images can be displayed include video mapping for content that makes an impact, horizontal or vertical screens for demos or when introducing your app and touch screens for interactive content!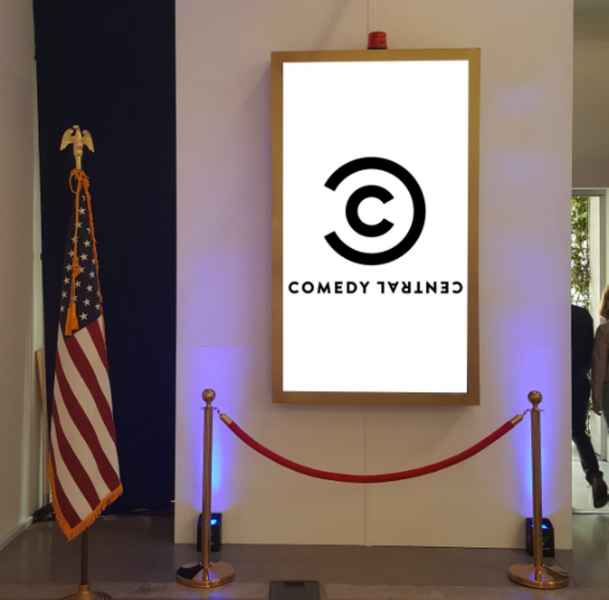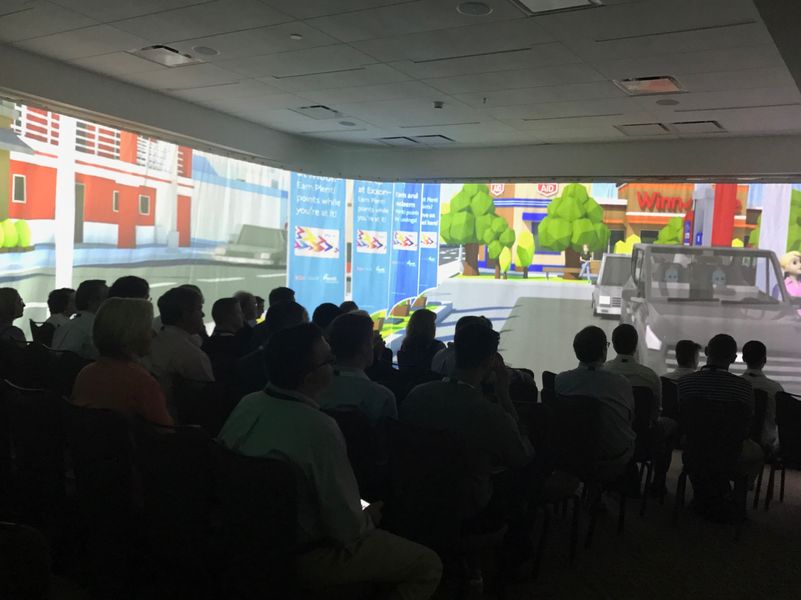 Design and Layout
There are so many ways to design your booth, but you want to make it unique and minimal. Your design should reflect your brand, flow and attract attendees. At SXSW, we see a lot of exciting booth designs that people flock too. A lot of these designs include the things we talk about above, as well as comfortable seating, an area to network with other attendees and more. The pictures below include booths at SXSW that are engaging and understand attendees have been walking around all day and may want to relax.